Introduction: The Global Food System Buckles under Ukrainian Pressures
Maize, rice, wheat, soybean: these four humble, staple crops have become the backbone of our current global food system. Five billion people across the globe consume a significant portion of their daily calories from these crops, relying on them for nutritious, balanced diets: rice, wheat, and maize alone account for 48% of global average daily calories
1
. These four crops — in addition to only eleven other staple crops that account for 90% of energy intake globally — propel human development and are contemporary keystones of global food security
2
.
What happens when one of these four powerhouse crops is propelled into uncertainty due to a massive, direct blow from a negative shock, upending its dependability. This is precisely the circumstance unraveling across the globe due to the Russian invasion of Ukraine. This study will argue that the war in Ukraine has unveiled the current vulnerabilities of a highly trade-dependent global food system, due to its reliance on a handful of crops and agricultural inputs from highly concentrated geographical areas. In highlighting one case study, Colombia, this thesis will disentangle the impacts of these shocks at the national level, analyzing particular aspects of the global food system that have led to high vulnerability, low resilience, and decreased sustainability.
This Study's Argument: An Overview & Methodology
The message is clear: the current global food system is unsustainable. To build up resilience to shocks, the global food system must abandon its extreme focus on staple crops exported from the Global North as the primary calorie source, a strategy that has created import-dependent, low-income countries in the Global South
3
. Climate change and climate-induced conflict exacerbate the already unprecedented level of food system shocks. More localized systems comprised of a range of features — including crop diversity, forgotten crops
4
, and diversified agriculture inputs — matched with a territorial approach
5
are critical in reshaping an enduring, functional, and sustainable food system that relies on localized foodstuffs and value chains to ensure food security.
To better gauge these limitations, and to understand potential forms of necessary change, Colombia emerges as an exemplary case. The Latin American nation has a seemingly indirect relationship to Russia and Ukraine; yet it has experienced dire economic ramifications and humanitarian effects on food insecurity due to the war's aggravation of complex domestic challenges. Colombia has been severely compromised by the war due to its reliance on commodities — mostly cereals and maize from Ukraine and fertilizers from Russia. The South American country has also been impacted due to its reliance on other breadbaskets — the United States, Argentina, and Brazil — which have also been impacted by the war and other shocks, such as climate change. This reliance has resulted in a drastic spike in food inflation, with Colombia experiencing the highest inflation in Latin America and the Caribbean (excluding the exceptional cases of Haiti, Argentina, and Venezuela)
6
.
In the traditional arc of structural transformation, the upper middle-income country has become increasingly dependent on cereal imports, minimizing its own production
7
. As a modernizing and formalizing economy, the agricultural sector has been highly productive and specialized for high-value exports, such as bananas and coffee. However, overreliance on a "reliable" cash crop for growth destabilizes the country's food sovereignty, stifles its growth, and threatens already vulnerable populations, such as indigenous and afro-Colombians
8
. This case study proves how linkages successfully integrated into the global food system maximize effects in seemingly disconnected markets by way of low crop diversity and negative shocks that easily ricochet through value-chains. The implications for food security, labor markets, and climate change mediators are staggering, with 345.2 million people projected to be food insecure in 2023, double the amount in 2020
9
.
To understand the current, unfolding global food crisis both generally and in the case of Colombia, this study utilizes a framework comprised of 3C Drivers — climate, COVID-19, and conflict. These drivers exert significant influence upon the 5F mediators — the geopolitics of global food, fertilizer, finance, fodder, and fuel — that shape food systems, within the framework of the Food System Resilience Action Cycle. Food insecurity indicators, such as food inflation rates, along with a desk review assessing both historical literature and current event coverage are utilized to assess the fallout associated with the war in Ukraine and its ramifications for food systems in near and distant futures. In addition, semi-structured interviews with experts across sectors in Colombia are included to provide a fuller assessment. Policymakers and experts within the Colombian food system were interviewed, including individuals from Fenalco (the National Trade Federation of Colombia), the International Center for Tropical Agriculture, an independent consultancy on agriculture in Colombia, Findeter (the state-owned development bank focused on sustainability), and the Center for Agricultural Economics and Natural Resources of the Banco de la República (the central bank of Colombia). These conversations provided diverse perspectives on the ongoing crises in Colombia, the future development of the country and its advantages, along with the key challenges the country faces. I thank these experts for their time and contribution to this report, which were given on an anonymous basis.
Footnotes
AMY ICKOWITZ ET AL., "TRANSFORMING FOOD SYSTEMS WITH TREES AND FORESTS," THE LANCET PLANETARY HEALTH 6, NO. 7 (2022), https://doi.org/10.1016/s2542-5196(22)00091-2, E632.
FRANCESCO BURCHI AND PASQUALE DE MURO, "A HUMAN DEVELOPMENT AND CAPABILITY APPROACH TO FOOD SECURITY: CONCEPTUAL FRAMEWORK AND INFORMATIONAL BASIS" (UNITED NATIONS DEVELOPMENT PROGRAMME, 2012), 29; ICKOWITZ ET AL., "TRANSFORMING FOOD SYSTEMS WITH TREES AND FORESTS," E632.
JONATHAN WOETZEL ET AL., WILL THE WORLD'S BREADBASKETS BECOME LESS RELIABLE? MCKINSEY GLOBAL INSTITUTE, 2020, 13.
FORGOTTEN CROPS REFER TO CROPS THAT HAVE BEEN "FORGOTTEN" BY RESEARCHERS, GOVERNMENTS, AND FUNDING AND DEVELOPMENT AGENCIES; HOWEVER, THEY ARE STILL CULTIVATED BY SMALLHOLDER FARMERS GLOBALLY. INVESTMENTS IN THESE CROPS AND CROP DIVERSIFICATION, WHICH HAVE THE POTENTIAL TO BUFFER THE IMPACT OF SHOCKS, REQUIRES A CONCERTED EFFORT GLOBALLY TO RUPTURE INDUSTRIAL AGRICULTURE'S CURRENT DOMINANCE; MICHEL EDMOND GHANEM. "TIME FOR A RADICAL CHANGE: HOW UNDER-RESEARCHED, 'FORGOTTEN CROPS' CAN HELP ACHIEVING FOOD SECURITY AND IMPROVE LIVELIHOODS," THE OECD FORUM NETWORK. | ORGANISATION FOR ECONOMIC CO-OPERATION AND DEVELOPMENT |, OCTOBER 31, 2022. HTTPS://WWW.OECD-FORUM.ORG/POSTS/TIME-FOR-A-RADICAL-CHANGE-HOW-UNDER-RESEARCHED-FORGOTTEN-CROPS-CAN-HELP-ACHIEVING-FOOD-SECURITY-AND-IMPROVE-LIVELIHOODS?BADGE_ID=BIODIVERSITY.
TERRITORIAL APPROACH REFERS TO AN APPROACH ROOTED IN A LOCALIZED CONTEXT WHERE GOVERNMENTS, MULTILATERAL AGENCIES, THE PRIVATE SECTOR, PHILANTHROPIC FOUNDATIONS, AND THE MEDIA HOLD IMPORTANT ROLES. THIS APPROACH BREAKS FROM TRADITIONAL SECTORAL, TOP-DOWN, AND "ONE-SIZE-FITS-ALL" APPROACH TO ENSURE THE IMPLEMENTATION OF POLICIES THAT TACKLE A REGION AND COUNTRY'S SPECIFIC CHALLENGES IN FOOD SECURITY AND NUTRITION POLICY.; OECD, FAO, AND UNCDF, "ADOPTING A TERRITORIAL APPROACH TO FOOD SECURITY AND NUTRITION POLICY," OECD PUBLISHING. 2016. HTTP://DX.DOI.ORG/10.1787/9789264257108-EN
DANIEL SALAZAR CASTELLANOS,"TRIGO Y MAÍZ: ¿EN QUÉ MOMENTO COLOMBIA PREFIRIÓ IMPORTAR MÁS QUE PRODUCIR?" BLOOMBERG LÍNEA, JUNE 21, 2022. HTTPS://WWW.BLOOMBERGLINEA.COM/2022/06/21/TRIGO-Y-MAIZ-EN-QUE-MOMENTO-COLOMBIA-PREFIRIO-IMPORTAR-MAS-QUE-PRODUCIR/.; ROB VOS, JOSEPH GLAUBER, AND DAVID LABORDE. "IS FOOD PRICE INFLATION REALLY SUBSIDING?" IFPRI.ORG, JANUARY 24, 2023. HTTPS://WWW.IFPRI.ORG/BLOG/FOOD-PRICE-INFLATION-REALLY-SUBSIDING.
UNITED NATIONS DATA, CEREAL IMPORT DEPENDENCY RATIO (PERCENT) (3-YEAR AVERAGE): COLOMBIA, 2018. HTTP://DATA.UN.ORG/DATA.ASPX?Q=DEPENDENCY+RATIO&D=FAO&F=ITEMCODE%3A21035 COLOMBIA REPORTS, "POVERTY AND INEQUALITY." COLOMBIA REPORTS, 2021. HTTPS://COLOMBIAREPORTS.COM/COLOMBIA-POVERTY-INEQUALITY-STATISTICS/#:~:TEXT=REGIONAL%20POVERTY%20DISTRIBUTION,WERE%20LIVING%20IN%20EXTREME%20POVERTY.
WORLD FOOD PROGRAMME, "A GLOBAL FOOD CRISIS," WORLD FOOD PROGRAMME, 2023. HTTPS://WWW.WFP.ORG/GLOBAL-HUNGER-CRISIS#:~:TEXT=2023%3A%20ANOTHER%20YEAR%20OF%20EXTREME,DOUBLE%20THE%20NUMBER%20IN%202020.
SHERYL L HENDRIKS ET AL., "GLOBAL ENVIRONMENTAL CLIMATE CHANGE, COVID-19, AND CONFLICT THREATEN FOOD SECURITY AND NUTRITION," BMJ, 2022. HTTPS://DOI.ORG/10.1136/BMJ-2022-071534, 1; TENDALL ET AL., "FOOD SYSTEM RESILIENCE: DEFINING THE CONCEPT," 19.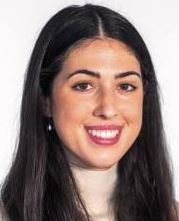 Camille Farradas
is a recent graduate from the Johns Hopkins School of Advanced International Studies – Bologna Center with a Master's of Arts in International Affairs. Throughout her studies at SAIS, Camille has focused on the intersection of development, sustainability, food policy, and Latin America and the Caribbean, culminating in her MAIA thesis titled, "Lost Resilience and Staggering Risks: The Adverse Effects of a Highly Trade-Dependent Global Food System. A Case Study of the War in Ukraine and its Consequences in Colombia." Prior to SAIS, Camille graduated from Bowdoin College with a Bachelor of Arts in Visual Arts and Psychology, and completed a Fulbright Fellowship in the Azores, Portugal. She is currently transitioning to her new role as the Communication and Reporting Fellow within the Young Professional Programmes unit for the World Food Programme at their Havana, Cuba office.