SAIS Europe MAIA Thesis Abstract:
Small and Medium-Sized Enterprises in the International Context: Legal Challenges and Business Developments
The thesis deals with the internationalization of small and medium-sized enterprises (SMEs) and the most important provisions of international law that support their activities. In fact, the role played by SMEs internationally is changing. With the increase in global trade and the creation of new technologies, more and more SMEs are turning their economic activity to foreign markets, driven by reasons that may be internal or external to the company. However, the existence of barriers, formal or informal, implicit or explicit, internal or external, makes it difficult and expensive for a company to enter a certain market. This discourages the internationalization of SMEs, preventing them from seizing the opportunities offered by foreign markets, and slowing down trade. However, in the light of the great economic importance of SMEs, international law has become more aware of the difficulties faced by SMEs, intervening with increasingly specific provisions that aim to promote the activity and competitiveness of SMEs abroad.
The first part of the thesis analyzes how WTO agreements, multilateral trade agreements and European regulations are becoming fundamental in removing regulatory and practical obstacles to the trade of SMEs, thus greatly supporting their activity and allowing them to develop their full potential abroad.
The second part of the thesis deals with industrial districts and business networks. These represent two forms of aggregation, one of the most effective methods for conducting business abroad. In fact, in today's globalized world, in order to cope with new economic and political trends, enterprises are organizing production over larger territories, connecting with other enterprises in many different forms and creating innovative value chains. In this way, small businesses can share best practices and adopt shared strategies to protect the production activity, thus entering foreign markets with greater strength and competitiveness. In industrial districts, companies work in synergy, on the basis of a common geographical location, shared resources and institutions. Business networks, on the other hand, aggregate autonomous and independent enterprises, which maintain their autonomy and share information, knowledge, and productive projects to achieve a common goal. To analyze the extent and functioning of these two types of aggregations, the Italian case was taken into consideration, given its recent legislation on business networks and the phenomenon of industrial districts.
Finally, to concretely verify the functioning of a business network, the last part of the thesis focuses on a case study concerning a business network of the Italian Region Emilia Romagna. This case study shows that the network contract is proving to be a useful tool for small and medium-sized enterprises in Italy. In fact, other countries are looking at this form of "Italian" collaboration with increasing interest. The transition towards collaborative business models plays an essential role in addressing the challenges related to internationalization and business development. The case study concretely shows that through these aggregations, companies can obtain the critical mass necessary to have greater contractual weight, participate in regional, national or international calls and find the necessary resources for the research and development of new products, services and processes. By remaining isolated, small enterprises have very limited ability to internationalize. However, by joining together, small and medium enterprises are able to combine resources and market power to reach international markets.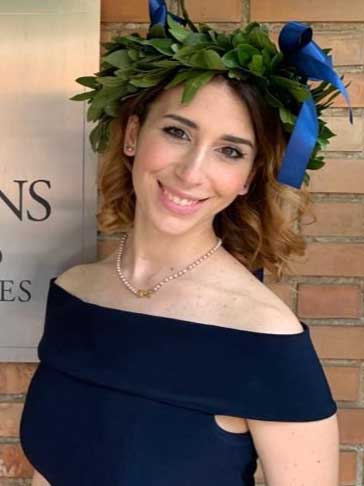 Giuditta Toscani, from Italy, obtained her Master's Degree in Law from the University of Udine, Italy, in 2019, with a thesis on the protection of the freedom of religion in the Italian and Austrian legal systems.

After graduation, she was accepted at the Diplomatische Akademie Wien, where she started the Master of Advanced International Studies. Thanks to a cooperative degree programme she completed the second year of the Master at the Johns Hopkins University - SAIS Europe. Her studies at SAIS focused mainly on international law and trade, leading her to write a thesis on the internationalization and competitiveness of small and medium-sized enterprises under the supervision of Professor Marco Gestri and Professor Vera Negri Zamagni.

After graduation, Giuditta passed a public service exam and was hired at the Secretary General of the Italian Ministry of Tourism.